Ultimate Essiac is your affordable (but equally effective) Flor Essence alternative. We have traditionally sold our Ultimate Essiac boxs wholesale only - but now we are selling even one box at a time to individual customers, too! Our product is a great Flor Essence alternative at a more affordable price. We sell to you direct from the manufacturer so you save!
Buy Ultimate Essiac - Direct from the Manufacturer.

Using Ultimate Essiac means:
You'll enjoy a lower cost essiac tea than you'll pay with similar competitiors such as Flor Essence
Formula with a Proven Lineage
We are Essiac Experts - It's Our Only Product
Lowest Boxed Price Guaranteed
Knowledgeable and Attentive Customer Service
Volume Discounts Available
Fast Order Fulfillment with Free Domestic Shipping
Product is Always Fresh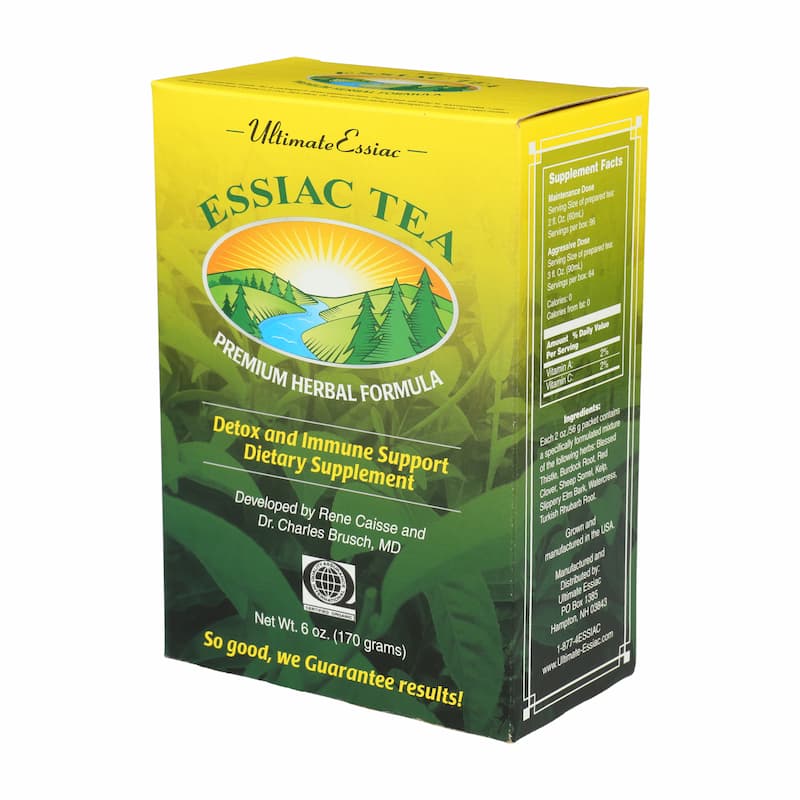 Our essiac is an eight herb formula with lineage to Rene Caisse and Dr. Charles Brusch, the individuals who originally developed essiac for widespread use. Their research at the Brusch Medical Research Center from the years of 1959 through 1967 produced an 8 herb formula that surpassed the results of the older 4 herb blends.

Our staff worked alongside Dr. Charles Brusch learning how to most effectively prepare the essiac formula. Our essiac is made from powdered herbs since powdered herbs have a higher bioavailability than whole herbs. They are designed to be consumed. Essiac was first developed by the Ojibway Indians and they are famous for never letting anything go to waste. The herbs are better in your body than in the trash.
We have the same eight herbs included in Flor Essence tea, but at a fraction of the price. Powdered essiac is more effective and affordable than capsules, tinctures or premade liquid. Our essiac tea takes just 10 minutes to prepare and you'll prepare a half gallon at a time. A half gallon will be used up in plenty of time before the tea would spoil when stored in the fridge.
We are able to offer volume discounts depending on quantity you'd like to order. 5 boxes or more gets you a discount for end users, and wholesalers can enjoy greater savings at 10 boxes at a time or more. Go here to order direct as an end user, or here for more information on wholesale orders.
It's important to know exactly who you're buying from! Go here to read more about Our Story.